System integration
During its many years' existence, development and production in the field of radio communication, Ei Pionir UKT factory has designed and created a lot of different systems, primarily related to asset and resource remote controlling. Some of the projects included relatively small number of controlled objects in the simplified environment, whereas, on other occasions, the fulfilment of the technical requests meant dealing with very complex matters, requiring various sophisticated functions and the application of completely original concepts.
The common feature of all the realized systems is data transmission between fixed and mobile participants, based on the application of radio channel as a transmission medium. Most of the systems are designed exclusively for specific purposes, in cooperation with the customer's technical staff, which guarantees the achievement of the characteristics totally identical with those requested in the customer's order.
The technological base for some of the realized systems is the equipment from our own development, and it consists of VHF/UHF radio communication devices, modems, terminals for data acquisition and processing, as well as different accessories, together with adequate software support. A representative example of such a system is ASU-2000 - Automated System for Urban Public Transport Control - one of our most successful export products.

| | |
| --- | --- |
| | |
On the other hand, as we always search for the most efficient solution to any particular request, whenever it is necessary to use the technologies that are not included in the Factory's production program, we turn to the components offered by the world leading manufacturers and integrate them in the system in question. Direct collaboration with the manufacturers' technical support staff and our original engineering approach in dealing with such systems, always lead to most efficient solutions and the achievement of the optimal system's features. The work on some of these systems has implied the use of the latest and most sophisticated communication technologies (GPS - navigation receivers, RFID - readers and passive/active tags, spread spectrum microwave links, etc.), due to which it has been possible for us to forward outstandingly original solutions.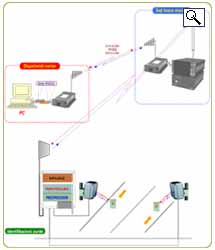 Contact for all information and requests
office@eipionirukt.co.rs